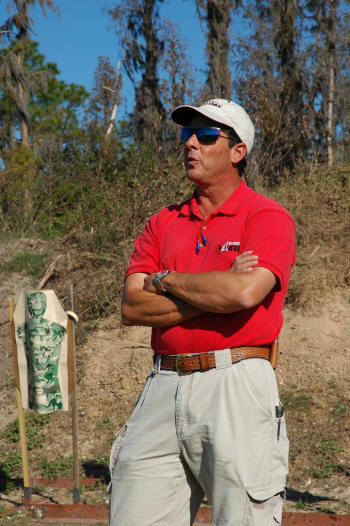 Randy Cain
Director
Randy Cain has a training pedigree that is second to none. His teaching resumé spans almost four decades. He has trained with the cream of the crop and taught with and for the most elite 1st generation of tactical training instructors. He has the extremely rare honor, being one of only three people in the world to hold instructor certification by Louis Awerbuck and Yavapai Firearms Academy. Randy coordinated and/or hosted YFA classes for 20 years. It was in fact, Louis Awerbuck who convinced Randy to hang out his own shingle. Randy was a Rangemaster and staff instructor at Gunsite for 8 years where he served as instructor in the highly esteemed "Masters Series" classes with Jeff Cooper. Serving as a police officer in patrol, SWAT, and as a training officer consolidated his philosophy of range training with the harsh realities of the streets in the real world. Randy doesn't jump on the bandwagon of every new, weird, or esoteric fad that comes along,….preferring instead to focus on solid, time-tested fundamentals. He is an advocate of methodologies based in Gunsite doctrine and embraces tactics evolved over time through actual armed confrontations.
Instructor Credentials
A Lifetime shooter and hunter
Experience as a Police Officer, police SWAT team member, entry team leader, and training officer
25 Years Experience in Traditional Oriental Martial Arts
George Peabody College for Teachers of Vanderbilt University, 1973-78
Teaching Experience
Over 25 years in the field of tactical firearms training as a professional trainer. Before that, another 25 years in traditional oriental martial arts including running and operating a martial arts school.


Background: Specialized Weapons Training
Louis Awerbuck - Multiple classes: Handgun, Subgun, Shotgun, Carbine, Rifle
Jeff Cooper - American Pistol Institute/GUNSITE - Pistol and Rifle Courses
Clint Smith - International Training Consultants - Countersniper I & II
Thunder Ranch - Urban Rifle 1 & 2
Pat Rogers - Carbine/Pistol
Ray Chapman - Pistol
Ken Hackathorn Advanced Concealed Carry Pistol
Hershel Davis - Handgun & Carbine
Bill Jeans - Tactical Shotgun, Tactical Handgun
Scott Reitz - Pistol
Larry Mudgett - Pistol
Anti-Terrorism training in Europe with British Royal Military Police
Training with German Police SWAT units
'Action pistol' Competition Experience
Served as Rangemaster for Tennessee Practical Pistol Championships
DOE Nuclear Site Security Sniper School
Def-Tec Chemical Munitions Instructor Certification
Glock Police Pistol Armoror School
NRA Life/Endowment Member
NRA Police Firearms Instructor Development School
Tennessee State Certified Firearms Instructor
Illinois (ILETSB & NEMRT) Law Enforcement Certification: Firearms, Close Quarter Tactics, and Defensive Tactics Instructor
Mississippi Law Enforcement Firearms Instructor Certification
International Association of Law Enforcement Firearms Instructors (IALEFI)
Northwestern University Criminal Interdiction School
FBI Advanced SWAT School